Since 2017, Orange uses Flexcity's platform to monetize its backup batteries: create value on French Demand Response (DR) services from connected devices and operate them with Flexcity's smart algorithms.
French consumers and industry have been protected from power outages on several occasions the last winters by Flexcity's Smart Grid technology exploiting the capacity of thousands of batteries at Orange locations across France to mitigate the effects of high demand peaks and associated power surges. Flexcity has been working with Orange, RTE, the largest Transmission System Operator (TSO) in Europe, and Enedis, the largest French Distribution System Operator, to provide and activate a "clean demand response" capability in response to spikes in energy demand. 
These successful interventions involving more than 8000 sites in a matter of minutes, clearly demonstrate the power of a Smart Grid enabled by the intelligence of the IoT to enhance the capabilities and resilience of the electricity transmission system and to protect its customers, comments Flexcity CEO Cedric De Jonghe. We're also creating a new opportunity for Orange to create value from its back-up capacity, which is normally a rarely-used 'insurance policy.
For this innovation , Flexcity won the Technology Innovation Award at the Paris Smart Energy Expo in 2017.
---
Context
Orange is one of the largest operators of mobile and internet services in Europe and Africa. To operate their network for fixed telephone and broadband internet they have thousands of sites across the territory. The operation of these sites is critical and must support delivery of a 24/7 telecommunication service. 
Continuous operation is guaranteed during power outages, thanks to backup batteries installed at each site. The batteries store sufficient energy to keep the site operational for an extended period without external power supply. To be aware that the backup will not be down in case of an incident on the grid, Orange monitors the state of charge of the batteries on more than 8,000 sites via their in-house monitoring platform.
---
Solution
Orange chose Flexcity and its platform, to connect, manage and control the fleet of batteries. This storage capacity is monetized on the most adequate Demand Response services of RTE (the French Transmission System Operator of the grid) while ensuring the security of power supply of these sites.
To prepare tomorrow's grid, combining electricity and digital, RTE is developing innovative market mechanisms, says RTE's Sales Manager for Market Services, Laurent Lamy. The aim is to enlarge the scope of solutions that could provide balancing services. The use of these existing batteries is one good example of a new type of flexibility having a positive impact on power system balance. We are satisfied that our clients take all business opportunities from services developed in France.
Flexcity's Platform makes use of a high performing algorithm to control a distributed group of assets, As such, Orange delivers the required amount of energy to the grid operator, while respecting each individual technical limits and availability.
We're dealing with thousands of essential sites, so we can't afford any mistakes," comments Cedric De Jonghe. "We have to take all of Orange's constraints into account in real time,  including the fact that some sites may not be available to us. What's particularly interesting about this project is that instead of starting a diesel generator, we are switching to batteries, a  "green curtailment" which of course is much better in times of climate change and a new awareness of the impact of pollution."
To pilot more than  8 000 batteries of Orange, Flexcity brings additional remote control functions to Orange's monitoring systems by connecting it to Flexcity's Platform. This connection allows Flexcity's Platform to receive real-time availability and state of charge of batteries. It activates and deactivates groups of batteries to successfully deliver grid support during a Demand Response activation by RTE, the french power grid transmission operator. Flexcity has transformed a passive monitoring interface into an active platform delivering energy services. 
Via this project it was the first time in France that a DC metering system of distributed sites was validated for load measurement by the grid operator. This has leveraged the potential of the batteries with a near-zero investment in metering & control equipment from Orange.
"We would like to welcome Flexcity's initiative for its pioneering activity in Europe, which places France to the forefront of distributed energy resources management and energy storage innovation worldwide", adds Cedric Thoma, responsible for smart grids, hydrogen and energy storage with the French Energy Ministry.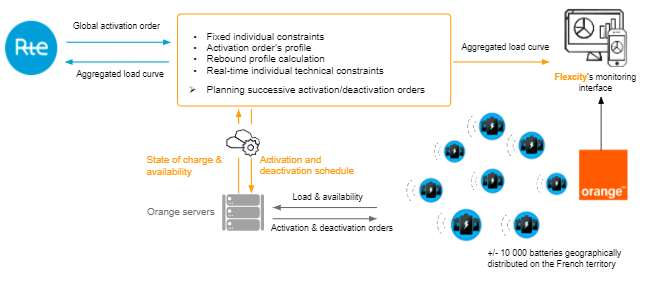 ---
Benefits
Flexcity's solution for large-scale Automated Demand Response with small flexible units offers multiple benefits to Orange:
Creating additional revenues with back-up capacities
Monitoring and active remote control of its fleet of batteries
Contributing to security of supply and CO2 emission reduction with "green" curtailments.
"We are very proud of this smart grid world premiere that contributes to the French electricity grid's stability while creating immediate and substantial ROI". Hervé Mallet, Energy Director, Technical & IS Department, Orange France
Flexcity interacts with Orange's technical manager to gain insight regarding critical operational limits. Also the behavior of the batteries and the rebound effect of the sites is correctly modelled. Thanks to the meters and monitoring system of the sites, Flexcity's solution offers a very low CAPEX for software development. Flexcity also interacts with the grid operator on required changes in market regulation. Energy market expertise combined with high-performance technology has resulted in an immediate profit by monetizing more than 20 MW on grid services.
"At Enedis, as a DSO, we are committed to facilitating market participation of distributed energy resources and we are pleased to enable this Flexcity and Orange initiative that illustrates the evolution of the energy system: decentralized and customer-centered" says Emmanuel Husson, Director of Customers and Markets at Enedis. "At the intersection of digitalization and the electricity system, such smart grid innovation will be fostered by the ongoing roll out of smart metering, and new business models will be triggered, relying on consumer empowerment and new technologies."